Physioworks Health Group Berwick Now Open at P3 Sports & Recovery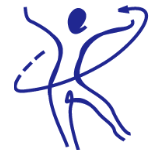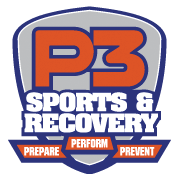 Physioworks Health Group has opened a new clinic onsite at P3 Sports & Recovery Berwick.
The clinic services will focus on sports physiotherapy and sports injury management.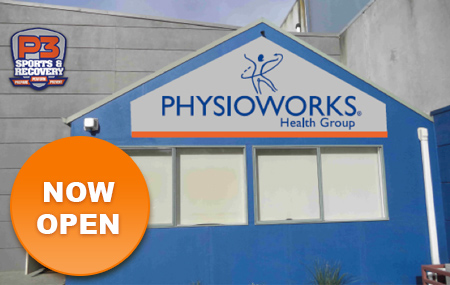 Experienced Sports Physiotherapists Matthew Lynagh and Paul Kemel will be onsite at P3 Sports & Recovery to provide athletes with sport injury triage, treatment and management.
Located at 53-55 Enterprise Avenue in Berwick, P3 Sports & Recovery is an elite recovery centre for sports people throughout the region. The centre provides services to help people 'prepare, perform and prevent' using state-of-the-art technology, equipment and support at levels usually reserved for elite athletes.
Former St.Kilda AFL footballer, now P3 Sports & Recovery Director, Aussie Jones said that physiotherapy is one of several treatment options available at the centre and experienced sports physiotherapists play an important role in sports recovery. "The Physioworks sports physiotherapy team have much experience at the elite sports level, as well at the community grass roots level of sport, which compliments the approach of our centre to ensure the best resources are available to assist in recovery for all our clients".

Physioworks Health Group sports physiotherapy expertise includes service provision to elite sport organisations, including the Collingwood Football Club (AFL and VFL) and Cricket Victoria (Men and Women); and to local community sporting leagues and clubs, including the Ellinbank and District Football League (EDFL), the South East Football Netball League (SEFNL), the Berwick FC, the Cranbourne FC, the Pakenham FC and the Tooradin-Dalmore FC.

Physioworks Health Group Director David Francis, who is also Head Physiotherapist at the Collingwood Football Club, said the P3 Sports & Recovery centre fully compliments the sports physiotherapy expertise of the Physioworks team. "A key to successful recovery is the immediate treatment, correct diagnosis & management of sport injury. Being on-site at P3 our Sports Physiotherapy team can triage injury and best assist athletes in their recovery and return to their sporting endeavours" said David.

Physioworks Health Group Berwick consultations are available at P3 on late Friday afternoon to assist with preparation of athletes to perform at their weekend sport, and on Sunday morning to triage injury, supporting recovery. Consultations are also available on Monday and Wednesday evenings. Consultation hours are:
Sunday 8am-12pm
Monday 5pm-8pm
Wednesday 5pm-8pm
Friday 3pm-6pm
Appointments can be made by contacting reception at P3 or please call 97689276.
Physioworks Health Group is a widely recognised allied health care provider for over 20 years to communities in the outer south eastern suburbs of Melbourne, with the Berwick clinic joining our network of multi-disciplined clinics in Camberwell, Cranbourne, Mulgrave and Pakenham.