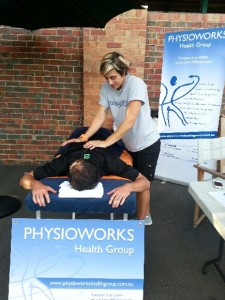 Massage has been used for thousands of years for muscular aches and as part of the rehabilitation program. It is commonly used by physiotherapists; and it is a specialist service provided by the highly experienced team of Soft Tissue Therapists at Physioworks Health Group, when the aim is to reduce muscle tension and stiffness.
The cause of the tension and stiffness in the muscle tissue can be due to overuse, or unaccustomed use (new exercise load) of the muscle system, or an underlying painful joint, but it can also be in response to emotional stress.
Some studies have found that emotional stress can cause some of the muscles around the neck to increase in tension. Studies investigating massage alone for back pain have shown mixed results, but it does seem clearer, when combined with active exercise and education, that outcomes are improved.
Physioworks Health Group Camberwell Director and Specialist Musculoskeletal Physiotherapist Andrew Dalwood says patients commonly report relief of tightness after quality soft tissue massage therapy.  "This enables them to move more freely; thus restoring normal movement. This may need to be complemented with other exercises for strength and endurance" said Andrew.
Andrew recommends regular massage therapy for sports athletes who train regularly and hard, for example, in the lead up to a marathon/triathlon, cricketers after long bowling spells or footballers after heavy pre-season training sessions or hard match day game.
"Over the years I have found that regularly releasing the muscles from overloaded tension with remedial & sports massage has helped ensure optimum performance and got the athlete to the starting line, rather than potential breaking down with injury during a training program" added Andrew.
With 15+ years working with elite sport organisations, Physioworks Camberwell Soft Tissue Therapist Larissa Cordiano is a highly qualified and experienced massage professional. Larissa Cordiano currently provides her sports massage expertise to the Collingwood FC (AFL) and also works with Camberwell Magpies Cricket Club (Victoria Premier Cricket).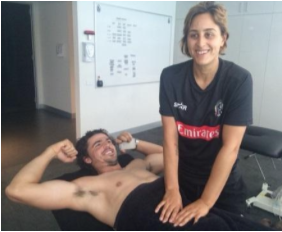 Larissa Cordiano (Physioworks Camberwell), along with Philp Boland (Physioworks Pakenham) and Karyn Wheeler (Physioworks Cranbourne) offer a wide range of Soft Tissue Massage techniques including:
Remedial Massage
Sports Massage
Relaxation Massage
Pregnancy Massage
Myofascial Cupping
Lymphatic Drainage
Need those muscles released? Relax the mind, relax the body with a soft tissue massage at Physioworks Health Group.
Please contact the respective clinics for an appointment with our Soft Tissue Massage Therapists.