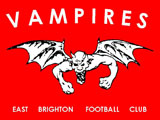 Physioworks Health Group Camberwell is supporting the 2014 premiership campaign of the East Brighton Football Club, with the Vampires playing in their fourth successive Southern Football League (SFL) Grand Final this weekend.
Physioworks Sports Physiotherapists Brad Fernihough, David Francis and Andrew Dalwood, along with Massage Therapist Larissa Cordiano, have worked hard all season in collaboration with the East Brighton FC trainers, to successively treat and manage the player's to ensure their participation in a big finals campaign.
"It has been a very challenging year for injuries to the Vampires, but with a managed approach we have got them all fit for selection at the right time of the year", said Physioworks Director Andrew Dalwood "It has been a credit to coach Ben Murphy, his team of assistants and all the playing personal to achieve a top three finish and then power through to a fourth successive grand final, especially given some of the early season player injury issues" said Andrew.
As the proud sponsor of coach Ben Murphy, Physioworks Health Group Camberwell wish the Vampires premiership success as they take on Dingley FC in the SFL Division One Grand Final this Sunday. GO Vampires.