Members of the Physioworks Health Group physiotherapy team are currently assisting the University of Melbourne in a new research project into Knee Osteoarthritis (OA), and also continuing research into Hip Impairment Management. Exercise for Knee Osteoarthritis targets high risk physical characteristics. The project, TARGET, is being funded by the Melbourne School of Health Sciences. Physiotherapists […]
Read More...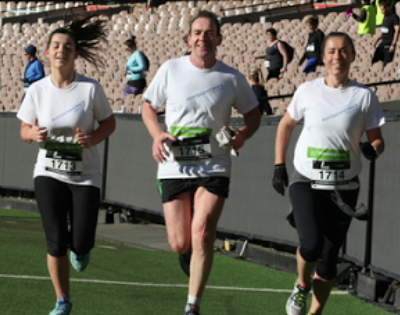 Spring rains are bringing the end to the football and netball seasons and many are now turning their participation to the numerous upcoming fun run events in and around Melbourne. The first of seasons major runs is the Melbourne Marathon carnival on Sunday October 17th Physioworks Health Group are offering discounted consultations for Physiotherapy, Massage […]
Read More...
The gloves are off again this week at the Physioworks Health Group Cranbourne. Physioworks Health Group physiotherapists Scott Williams and Paul Kemel are the "opposing" physio's in the 2016 South East Football Netball League (SEFNL) Grand Final on Saturday between Cranbourne Football Netball Club (Scott) and Berwick FC (Paul), in a replay of last year's […]
Read More...